A brave woman who is paralysed from chest down has created a world record by becoming the first person to complete a Marathon in a Bionic suit, when she crossed the finish line after 16 days .
Claire Lomas created this world record by finishing the London Marathon yesterday which was 26.2 miles long.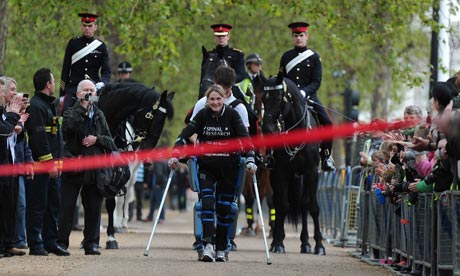 Claire , who is 32 years old , got paralysed in a riding accident five years before. But now thanks to the modern Bionic suit  worth £43,000 which made Claire complete the race in 16 days.
Unfortunately ,the 32 years old , Claire was not awarded any medal because of not completing the race  same day but was kindly given one from another runner.
This whole dedication of Claire had helped in raising over  £86,000 for Spinal Research and yes she was accompanied by her hubby Dan and her cute daughter Maisie.